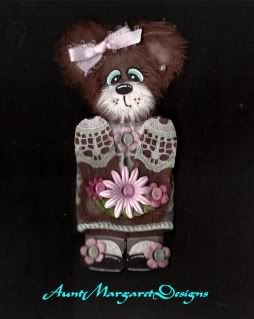 Don't you just love the smell of Spring? I do! The trees and flowers start budding, the rain washes away all the yuckiness from winter and everything is new again. Spring is one of my favorite times of the year. It's amazing that I get amazed every year at how the Earth renews itself. God is an awesome creator, He sure knew what He was doing!
I made a little Spring tear bear and she turned out to be just so springy! I used trim to make her dress and ribbon. She's holding a pink bouquet of fresh flowers. I think she is adorable. I hope you will check her out on ebay.
I guess that is all I have to share for now. Thanks for stopping and in and staying awhile. I always enjoy company!